MENTOR SUMMIT 2021: DIGITAL ACCESS PASS
Get on-demand access to all talks and keynotes from Mentor Summit 2021: Spiritual Fatherhood.
Mentor Summit is Radical Mentoring's annual conference for mentors and church leaders. Our theme for 2021 was Spiritual Fatherhood. While we haven't always used these words, "spiritual fatherhood" is often the result of the Radical Mentoring process.
A spiritual father comes alongside another man in love, helps him find and follow Jesus, and is there for him as he learns to love, serve, and give. It's a powerful concept and at Mentor Summit 2021, we explored the meaning, methods, and responsibilities of spiritual fatherhood.
With the digital access pass, you get…
Immediate, on-demand access to all 5 keynotes from Scott Sauls, Mark Richt, Ben Stuart, and Shane Duffey, plus RM President Kevin Harris's opening and closing talks.
Exclusive access to Q&A's with each of our speakers and a Best Practices Panel featuring seasoned Radical Mentors
Early access, including the absolute best price, for Mentor Summit 2022
If you're a mentor or church leader, the topics we covered at Mentor Summit 2021 were designed to help you as you guide the next generation to develop deep relationships with God and with others.
We're confident the Mentor Summit 2021: Digital Access Pass will leave you…
Encouraged to embrace your role as a spiritual father
Energized about the opportunity you have to mentor the next generation.
Equipped to influence others with humility and gentleness
Inspired to keep it simple and use what you know to impact others
FEATURING…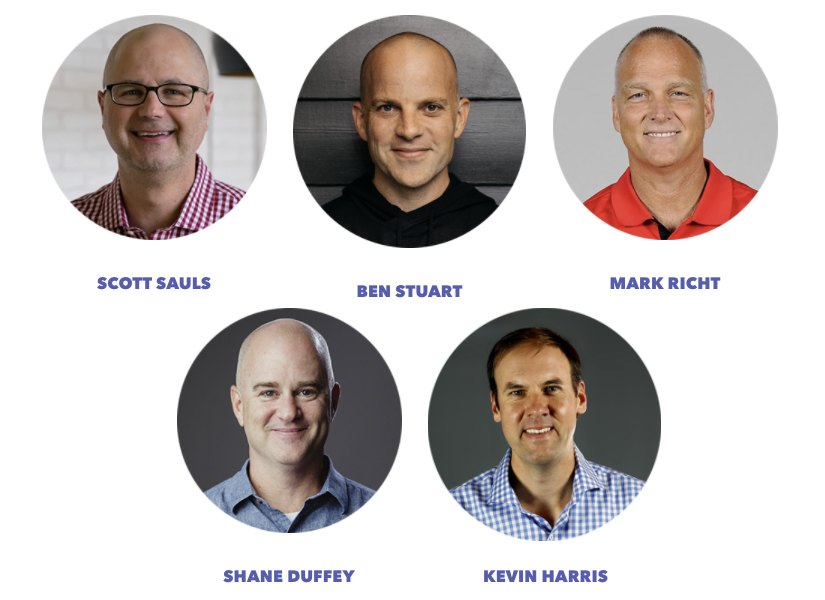 Click the
Purchase
button to start the Resource.
12 Videos
121 Participants
Cost: $49.00
Table of Contents
| | | | |
| --- | --- | --- | --- |
| 1 | Kevin Harris: The Role of the Spiritual Father | | |
| 2 | Ben Stuart: The Next Generation | | |
| 3 | Ben Stuart: Q&A | | |
| 4 | Shane Duffey: Family is God's Ultimate Purpose | | |
| 5 | Shane Duffey: Q&A | | |
| 6 | Scott Sauls: Gentleness in an Age of Outrage | | |
| 7 | Scott Sauls: Q&A | | |
| 8 | Mentor Panel: Best Practices | | |
| 9 | Scott Sauls: Recovering from Our Weariness | | |
| 10 | Mark Richt: Honor God and Take Care of Business | | |
| 11 | Mark Richt: Q&A | | |
| 12 | Kevin Harris: Living Light & Free | | |
About the Organization